Like many people, I am afflicted with a virus known as pokelove. It is similar to Beiber Fever or Gaming addiction. Pokelove means I really like pokemon. To show my love to all pokenerds out there, I have tracked down and found all the AR codes for Pokedex 3d! No need to thank me, just fill up your 3dses with pokemon codes!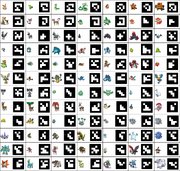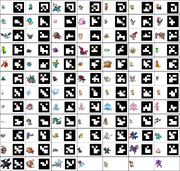 Did I tell you that I have scanned most of these?
Thanks! Golden Flame Zero 07:58, September 4, 2011 (UTC)
Edit: I have added a slider for those who like sliding. Thanks! Golden Flame Zero 08:08, September 4, 2011 (UTC)
Ad blocker interference detected!
Wikia is a free-to-use site that makes money from advertising. We have a modified experience for viewers using ad blockers

Wikia is not accessible if you've made further modifications. Remove the custom ad blocker rule(s) and the page will load as expected.