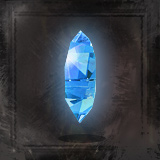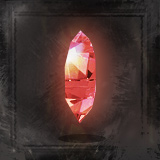 Memory Crystals, as they are known, are small blue gems which are rather alluring, and hold great amounts of Mana. They are very dangerous though, as if used correctly they can absorb an entire body in a matter of seconds, holding the soul and memories intact, but free for manipulation.
Normally, they can be used as mana batteries, similar to Mochite, however are far more brittle and have tendencies to shatter randomly when put under pressure. However, they can be used as an organic add-on, changing the user's body to a clear blue colour. This is actually quite dangerous as these gems then develop a mind of their own, and reshape the body into a more elaborate killing machine intent on spreading the gems. If mana is conducted through the gems forcefully, the gem's intelligence is destroyed and the person returns to the clear-blue state and is abosrbed by the gem, turning the gem into a very red colour. The soul can then be accessed to question the person, and by incinerating the gem the soul is freed into the afterlife. A cruel fate is to instead shatter the gem, by which then the soul is fragmented.
Ad blocker interference detected!
Wikia is a free-to-use site that makes money from advertising. We have a modified experience for viewers using ad blockers

Wikia is not accessible if you've made further modifications. Remove the custom ad blocker rule(s) and the page will load as expected.