Jay "Hitman" Hanricksan
, also known as Hitman J is a ruthless assassin from the present day, using any tactic possible to assassinate his targets. He is friend with
Goldas
Arenian after he attempted to assassinate him on ord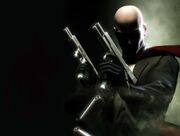 ers of
Klael
, the dark lord. That has been the only time Jay has failed to assassinate a target.
Klael
then invaded Aef, stabbing Jay in the back, creating a truce between Goldas and Jay and forming a friendship that would make Jay is the preferred Hitman for Aef. After that, Jay met
Vain
"The Impaler" Vezzu on a trip to the Aefian School. They became friends instantly, constantly argueing with each other, never holding grudges and also occasionally training with each other and showing each other tricks. Vain has only told Jay of what really happened when he was young.
"Magazine in, safety off, target along stud, laser on..." Checking he's ready to snipe someone.
"Excuse me?" Taps target on the shoulder "Hi, I'm Jay, and the last thing you'll ever see is the barrel of my pistol." Killing someone at close range.
"I HAVE A MINIGUN, AND IM GONNA USE IT, SO LET ME BLOODY USE IT!" Raging at the Aef guards.
"Poison? What Poison? Theres no poison hidden at my desk behind the cake" At the Imaginaughts headquarters in Minecraftia.
"Here, come look at my awesome sword. Cool glow right?" Slashes downward with the RoflKnife "Oops. I didn't mean to kill you. Oh wait, I did." *Laughs*
2 "DEagle" Desert Eagle .44's
The "RoflKnife", a heavily enchanted sword
Type 16 "Avenger" Minigun
Piano Wire
Arctic Warfare AWP Sniper rifle "AWPer Hand"
"Gold Storm", a gold-plated mini-uzi given to him by Goldas
Ad blocker interference detected!
Wikia is a free-to-use site that makes money from advertising. We have a modified experience for viewers using ad blockers

Wikia is not accessible if you've made further modifications. Remove the custom ad blocker rule(s) and the page will load as expected.