Home
Talk

4
293pages on
this wiki
The wiki where your creativity is the limit!
Welcome to the Imaginaughts Wiki
Imaginaughts is a series created by the Wikia user known as Golden Flame0, set in an alternative world with magic and futuristic technology, and where people like YOU, dear reader, can post WHATEVER YOU WANT.
The Imaginaughts series was started in 2005. The wiki itself was created in 2011, inspired by Custom BIONICLE Wiki, but designed to be more original. For a full history of the wiki, see here.
Rules and regulations
Generally, no flaming, griefing or vandalism.
All works are the property and works of their respective creators, and cannot be used commercially without their permission. This is a place for upcoming people to share their ideas, and for people to nurture their creations, and, eventually, put them in a start up game, book, movie, or anything similar.
Several pictures used here are commonly attributed. We will work on classifying these non-original pictures.
Attempt to keep it to the general story. You don't have to.
Remember to read the Manual of Style.
Remember: pictures and infoboxes are encouraged.
No going through loopholes. Pointing out loopholes in order for them to be fixed is fine.
No criticizing plot-holes. By all means, point them out.
Keep all bad language to a minimum. Absolute minimum.
If you're new here, we want you to make a free account so we can give you prizes and/or hats on the wiki.
Don't edit pages unless you have permission to do so. There are some pages that can be edited by anyone. Pages classified as elements can be edited by anyone, for example.
Spamming is not allowed, and advertising is limited to an honest say. No URL spamming! Seriously.
Supported Sites
Each of these wikis are in a wikia alliance with Imaginaughts Wiki.
Getting Started
How do I start, you may ask? The above area is mostly for this wiki's veterans. This is for the new among you.
Create a new account. Link is above.
Think of something, anything. Fix it up, then post it. Dont worry about anything else.
Thats the start. You have several options from there. Expand your storyline, streamline it, fix up spelling and grammar mistakes on other pages, contribute your own knowlege, focus on copying data across pages, or several of the above. Visit the fourms if you need further help.
Let Golden Flame0 know if you want your wiki on the list.
This image is The Snowflake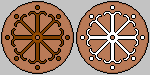 How often do use art on your pages?
For more polls, see Polls.