Basic Element

The Octogram, the most commonly used symbol for the Eight Basic Elements.

Category

Basic
Base elements are elements which cannot be simplified further, and are the building blocks to more complicated elements. They are the purest form of any element. There are eight of these; Light, Fire, nature, Earth, Darkness, Water and Ice, Technology and electricity, and Air.
Each primary element has an Elemental Lord. Lesser elements have "False Lords".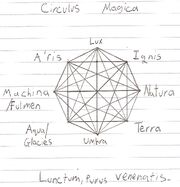 Each element has an opposite: Darkness and light, Fire and Ice.
Water fits under ice, as ice is cold but water can be hot, so ice is more sutible of being the opposite of fire.
Electricity is ambiguously paired with Technology, but can also be paired with Fire (Heat) and Air (opposite to Earth)